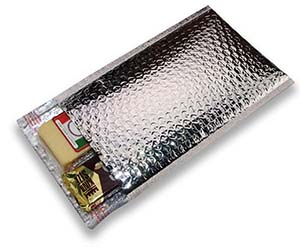 Cool Shield Thermal Bubble Mailers, Thermal Insulated Bubble Envelopes, Foil Cooler Bag - All Industry Sizes are in Stock
Protect food and pharmaceuticals during short-term shipping.
Laminated and waterproof material.
Cushions and protects with 3/16" metalized bubbles. Adhesive strips help seal the bubble..
High R-Value material.
Compliant with FDA regulations.
All industry standard sizes, custom sizing is available.
Made in USA.

Cool Shield Thermal Bubble Mailers – the perfect solution for shipping temperature-sensitive products! Our Thermal Insulated Bubble Envelopes feature a unique design that incorporates a double layer of bubbles and a foil liner to provide superior insulation against heat or cold. Our Thermal Bubble Mailers are ideal for shipping items such as chocolates, pharmaceuticals, cosmetics, and other perishable items. The aluminum foil coating helps to reflect the heat and keep your products at a constant temperature during transit.

Our innovative Foil Cooler Bag design ensures maximum protection and convenience during transport, allowing you to ship your items with complete peace of mind. The bags are lightweight, easy to use, and feature a self-sealing adhesive strip for secure closure. We offer Free Shipping and Lowest Retail Prices in the USA Market.
Thermal Metallic Bubble Mailers *** Thermal Metallic Bubble Mailers ***
SKU
Name
Price
Qty
Total
1
5
10
30

Thermal Metallic Bubble Mailers

MBM1

6"x6" Thermal Metallic Bubble Mailers 100pcs/cs

$46.86

$45.91

$45.00

$44.10

-

MBM11

9"x6" Thermal Metallic Bubble Mailers 100pcs/cs

$45.15

$44.24

$43.79

$43.79

-

MBM2

6.5"x10.5" Thermal Metallic Bubble Mailers 100pcs/cs

$69.45

$68.06

$66.70

$65.37

-

MBM3

8"x11" Thermal Metallic Bubble Mailers 100pcs/cs

$71.76

$69.78

$68.92

$67.57

-

MBM4

10"x10.5" Thermal Metallic Bubble Mailers 100pcs/cs

$91.44

$89.64

$87.83

$86.10

-

MBM5

11"x15" Thermal Metallic Bubble Mailers 50pcs/cs

$60.19

$58.98

$57.81

$56.70

-

MBM6

12"x17" Thermal Metallic Bubble Mailers 50pcs/cs

$70.61

$69.19

$67.80

$66.47

-

MBM7

12.75"x10.5" Thermal Metallic Bubble Mailers 50pcs/cs

$50.93

$49.88

$48.90

$47.95

-

MBM8

15"x17" Thermal Metallic Bubble Mailers 50pcs/cs

$79.38

$74.09

$74.09

$74.09

-

MBM9

18"x22" Thermal Metallic Bubble Mailers 50pcs/cs

$105.33

$103.02

$101.16

$99.10

-

MBM10

24"x20" Thermal Metallic Bubble Mailers 50pcs/cs

$140.07

$137.35

$134.52

$131.85

-