Get free printed sample
You will receive a free sample of White Shipping Box size 4''x 4'' x 4'' with random print on it.
The package also includes samples of the following products:
White Kraft Bubble Mailer
Poly Mailer
Poly Bubble Mailer
Rigid/StayMailer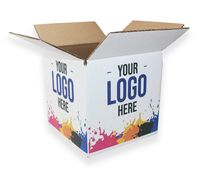 Please note that the samples are of smallest stock size we have with random print on them. They are meant to give you an idea about the quality of the product and print only. For true sizing please consult with our specialists or see the size chart for each individual product on this website.