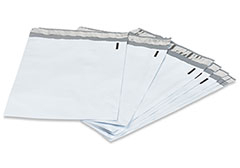 White Poly Mailers 2.5 mil, Shipping Poly Bags, Tear-Proof Polyethylene Mailers - All industry Sizes are in Stock
Made from three layers of co-extruded film for heavy duty strength, tear resistant and moisture proof poly bags ideal for shipping apparel or packages that don't require extra padding
2.5 mil thickness
The surface of the material is suitable for writing and sticking label .
Anti-static metallic liner for safety and comfort.
Shipping efficient because of its light weight and standard dimensions
Made in USA

Our poly mailers come in a variety of sizes to accommodate everything from small items like jewelry and cosmetics to larger items like clothing and accessories. Whether you're sending items domestically or internationally, our poly bags are perfect for protecting your items from moisture, dust, and other environmental factors during transit.

One of the standout features of our mailers bags poly is their self-sealing adhesive strip. Simply peel off the protective backing and press the flap down to securely seal the bag. This makes packaging and shipping your items quick and hassle-free.
Poly Mailers *** Poly Mailers ***
SKU
Name
Price
Qty
Total
1
10
30
100

Poly Mailers

PM1

6x9 Poly Mailers 1000 pcs/cs

$45.54

$45.54

$45.54

$30.00

-

PM7

19x24 Poly Mailers 200 pcs/cs

$56.01

$54.55

$53.80

$46.22

-

PM4

10x13 Poly Mailers 1000 pcs/cs

$81.61

$79.96

$78.37

$66.70

-

PM8

24x24 Poly Mailers 200 pcs/cs

$67.54

$66.29

$64.86

$56.22

-

PM2

7.5x10.5 Poly Mailers 1000 pcs/cs

$60.00

$58.20

$55.29

$52.52

-

PM6

14.5X19 Poly Mailers 500 pcs/cs

$78.63

$77.02

$75.51

$69.91

-

PM3

9x12 Poly Mailers 1000 pcs/cs

$70.17

$68.76

$67.38

$55.72

-

PM5

12X15.5 Poly Mailers 500 pcs/cs

$58.93

$57.75

$56.59

$48.17

-