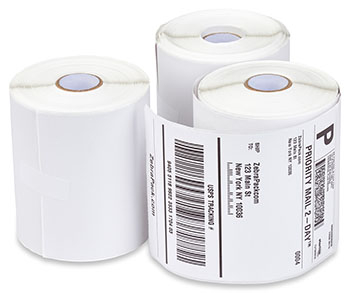 Direct Thermal Labels | Labels Direct
Labels Direct are ideal for short-term labelling needs, such as shipping labels, barcode labels, and retail tags, among others.
Direct Thermal Labels can withstand exposure to light, heat, and humidity.
Our Direct Thermal Labels are compatible with most printers, including Zebra, Datamax-O'Neil, and other popular brands.

Thermal Paper Labels are a heat-sensitive, cost-effective labeling solution that creates high-quality text and graphics without the use of ink or toner. They are widely used in various applications such as shipping labels, product identification tags, receipts, and many more.

Thermal printers can produce images quickly, making them ideal for high-volume printing tasks. Thermal Paper Labels are an efficient, reliable, and cost-effective labelling solution that meets the demanding needs of businesses today. Their print quality, speed, and environmental benefits make them a top choice for businesses of all sizes.
Labels *** Labels ***
SKU
Name
Price
Qty
Total
1
10
100

Labels

DTL46F

4x6 Fanfold Direct Thermal Labels 4000 pcs

$102.71

$100.60

$98.64

-

DTL46R1

4x6 Direct Thermal Labels 1" core, 16 rolls

$88.20

$86.43

$84.70

-