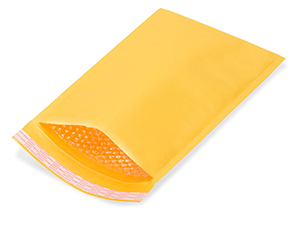 Golden Kraft Bubble Mailers, Self-Sealing Padded Bubble Envelopes, Yellow Kraft Bubble Bags - All industry Sizes are in Stock
High-quality materials
Laminated and waterproof kraft paper.
1/8" bubble lining for best protection.
3/16''bubble lining is available for custom orders.
All industry standard sizes, custom sizing is available
Made in USA

Golden Kraft Bubble Mailers made with high quality materials, these self-sealing padded envelopes are designed to protect your items during transportation while also providing a sleek and professional appearance. Kraft shipping bags is the best choise for your business whether you're shipping CDs, jewelry, or other small items, or larger items like books, clothes, or electronics, we have a size that will work for you.
Gold Kraft Bubble Mailers *** Gold Kraft Bubble Mailers ***
SKU
Name
Price
Qty
Total
1
15
30

Gold Kraft Bubble Mailers

KBM000

#000 4x8 Kraft Bubble Mailers 500 pcs/cs

$63.19

$61.92

$60.70

-

KBM00

#00 5x10 Kraft Bubble Mailers 250 pcs/cs

$43.75

$42.91

$42.02

-

KBM0

#0 6.5x10 Kraft Bubble Mailers 250 pcs/cs

$44.96

$44.06

$43.18

-

KBM1B

#1 7.25x12 Kraft Bubble Mailers 200 pcs/cs

$47.15

$46.21

$45.27

-

KBM2B

#2 8.5x12 Kraft Bubble Mailers 200 pcs/cs

$48.61

$47.64

$46.68

-

KBM3

#3 8.5x14.5 Kraft Bubble Mailers 100 pcs/cs

$40.07

$39.30

$38.51

-

KBM4

#4 9.5x14.5 Kraft Bubble Mailers 100 pcs/cs

$42.53

$41.69

$40.85

-

KBM5

#5 10.5x16 Kraft Bubble Mailers 100 pcs/cs

$47.20

$46.26

$45.26

-

KBM6

#6 12.5x19 Kraft Bubble Mailers 50 pcs/cs

$38.89

$38.10

$37.34

-

KBM7

#7 14.25x20 Kraft Bubble Mailers 50 pcs/cs

$42.53

$41.72

$40.85

-

KBMCD

#CD 7.25x8 Kraft Bubble Mailers 250 pcs/cs

$49.77

$48.77

$47.78

-