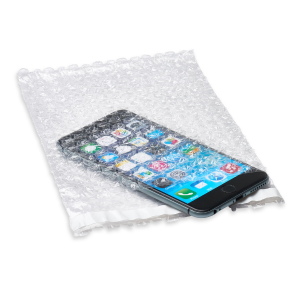 Provide extra protection and cushioning during transit for fragile items.
Our Bubble Out Bags feature a pressure-sensitive self-sealing strip.
Proudly made in the USA.
Fully recyclable materials.
Made of 3/16" thick bubble to provide extra protection.

Our premium quality Bubble Bags, the perfect solution for protecting and cushioning your valuable products without the need for tape. These bags feature bubble wrap on the outside and a smooth interior, providing the perfect protective pouch. The bags also close easily with a 1" self-seal tape lip, making packing quick and effortless.

Self Seal Bubble Bags made of 3/16" thick bubble, these bags provide extra protection and cushioning for fragile items during transit. Our Bubble Bags are ideal for shipping electronics, glassware, ceramics, and other delicate items that require maximum protection.
Bubble Out Bags *** Bubble Out Bags ***
SKU
Name
Price
Qty
Total
1
15
30

Bubble Out Bags

BOB455

Bubble Out Bag (Size 4x5.5, packed 500 pcs/case)

$59.97

$58.19

$56.97

-

BOB354

Bubble Out Bag (Size 3.5x4, packed 800 pcs/case)

$74.85

$72.61

$71.10

-

BOB685

Bubble Out Bag (Size 6x8.5, packed 250 pcs/case)

$54.90

$53.26

$52.15

-

BOB785

Bubble Out Bag (Size 7x8.5, packed 200 pcs/case)

$51.78

$50.22

$49.19

-