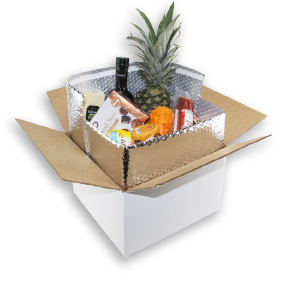 Insulated Box Liners - All industry Sizes are in Stock
Strong pressure self-seal
3/16" high quality bubble padding
Seamless bottom for maximum strength
High R-Value
FDA Compliant
Made in USA

Introducing our Insulated Box Liners, the perfect solution for shippers of food supplies such as chocolate, cheese, frozen meat or seafood, and other types of perishables. Our box liners are made from water-resistant and tear-proof metallic material that provides extra protection from heat by sustaining the temperature along with ice bags.

The thick bubble padding provides cushioning, while the high R-Value extra layer of film will sustain the temperature during transit. This combination of materials ensures that your products arrive at their destination at the required temperature range, maintaining quality, safety, and freshness.
Insulated Box Liners *** Insulated Box Liners ***
SKU
Name
Price
Qty
Total
1
15
30

Insulated Box Liners

TL12109

12x10x9 Insulated Box Liners 25 pcs/cs

$128.49

$124.64

$121.96

-

TL121212

12x12x12 Insulated Box Liners 25 pcs/cs

$141.19

$136.95

$132.84

-

TL12126

12x12x6 Insulated Box Liners 25 pcs/cs

$132.47

$128.75

$126.00

-

TL1010

10x10x10 Insulated Box Liners 25 pcs/cs

$115.64

$112.12

$108.90

-

TL88

8x8x8 Insulated Box Liners 25 pcs/cs

$109.21

$105.94

$103.74

-

TL66

6x6x6 Insulated Box Liners 25 pcs/cs

$92.82

$90.04

$88.17

-