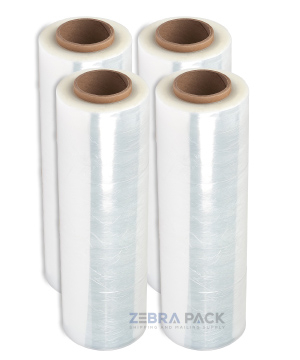 Stretch Film / Stretch Wrap - All industry Sizes are in Stock
Excellent load retaining capability
High puncture and tear resistance.
Superior film clarity.
Thinner gauge films with significant performance.
Made in the USA.
Cost-effective.
Environmentally-friendly, 100% recyclable.

Stretch Wrap made from durable, multi-layered materials, our stretch film provides superior strength and protection against moisture, dust, and other environmental factors. Stretch Film high elasticity allows it to conform to irregular shapes and sizes of packages, ensuring that your products stay in place and do not shift or move around during transportation.

Our stretch film is incredibly easy to use thanks to its user-friendly design. Simply stretch the film out over your package and wrap it around tightly to ensure a secure fit. It's also available in various thicknesses depending on your specific needs - ranging from light-duty for smaller items to heavy-duty for large or bulky items.
Stretch Film *** Stretch Film ***
SKU
Name
Price
Qty
Total
1
10
30

Stretch Film

CHF1880C

18" x 1,500' 4 rolls/case 20 Micron/ 80 ga Cast Hand Stretch Film

$77.72

$75.63

$74.10

-