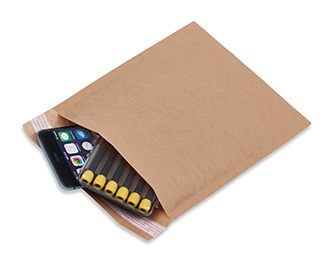 Brown Kraft Bubble Mailers, Self-sealing Padded Bubble Envelopes - All Industry Sizes are in Stock
Natural look, high quality materials.
Laminated and waterproof Kraft paper.
1/8" bubble lining for best protection.
3/16''bubble lining is available for custom orders (MOQ - 100 cases per SKU)
All industry standard sizes, custom sizing is available
Made in USA

Our eco-friendly Natural Kraft Bubble Mailer Bags - the perfect solution for safe and reliable shipping. Our padded envelopes feature a secure self-sealing closure that won't come undone during transit. Available in various sizes, they protect your items and are kind to the planet. Choose our Brown, Natural Kraft Bubble Mailer Bags, for an earth-friendly and reliable shipping solution. Bulk Orders Available. We Provide Fast Free Shipping.
Brown Kraft Bubble Mailers *** Brown Kraft Bubble Mailers ***
SKU
Name
Price
Qty
Total
1
15
30

Brown Kraft Bubble Mailers

BK5

#5 10.5x16 Brown Kraft Bubble Mailers 100 pcs/cs

$47.20

$46.26

$45.26

-

BK7

#7 14.25x20 Brown Kraft Bubble Mailers 50 pcs/cs

$42.53

$41.72

$40.85

-

BK0

#0 6.5x10 Brown Kraft Bubble Mailers 250 pcs/cs

$44.96

$44.06

$43.18

-

BK3

#3 8.5x14.5 Brown Kraft Bubble Mailers 100 pcs/cs

$40.07

$39.30

$38.51

-

BKCD

#CD 7.25x8 Brown Kraft Bubble Mailers 250 pcs/cs

$49.77

$48.77

$47.78

-

BK00

#00 5x10 Brown Kraft Bubble Mailers 250 pcs/cs

$43.75

$42.91

$42.02

-

BK000

#000 4x8 Brown Kraft Bubble Mailers 500 pcs/cs

$63.19

$61.92

$60.70

-

BK2B

#2 8.5x12 Brown Kraft Bubble Mailers 200 pcs/cs

$48.61

$47.64

$46.68

-

BK6

#6 12.5x19 Brown Kraft Bubble Mailers 50 pcs/cs

$38.89

$38.10

$37.34

-

BK1B

#1 7.25x12 Kraft Bubble Mailers 200 pcs/cs

$47.15

$46.21

$45.27

-

BK4

#4 9.5x14.5 Brown Kraft Bubble Mailers 100 pcs/cs

$42.53

$41.69

$40.85

-