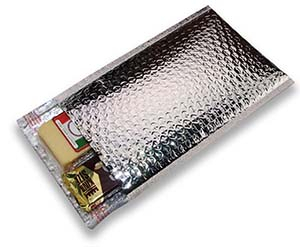 Thermal Metallic Bubble Mailers, Insulated Shipping Envelopes - All industry Sizes are in Stock
Strong pressure self-seal
3/16" high quality bubble padding
Seamless bottom for maximum strength
High R-Value
FDA Compliant
Made in USA

Our Thermal Bubble Mailers are a cost-effective packaging solution for shipping temperature-sensitive products such as food, medicine, and cosmetics. Made with high-quality materials, including multiple layers of bubble padding and thermal film insulation, these mailers provide excellent protection against heat, cold, and moisture during transit.

The bubble padding also provides cushioning to protect your products from damage during shipping. The mailers come in various sizes and are lightweight, making them easy and efficient to use. They are perfect for e-commerce businesses and individuals looking for a reliable and affordable way to ship temperature-sensitive products.
Thermal Metallic Bubble Mailers *** Thermal Metallic Bubble Mailers ***
SKU
Name
Price
Qty
Total
1
5
10
30

Thermal Metallic Bubble Mailers

MBM1

6"x6" Thermal Metallic Bubble Mailers 100pcs/cs

$46.86

$45.91

$45.00

$44.10

-

MBM11

9"x6" Thermal Metallic Bubble Mailers 100pcs/cs

$45.15

$44.24

$43.79

$43.79

-

MBM2

6.5"x10.5" Thermal Metallic Bubble Mailers 100pcs/cs

$69.45

$68.06

$66.70

$65.37

-

MBM3

8"x11" Thermal Metallic Bubble Mailers 100pcs/cs

$71.76

$69.78

$68.92

$67.57

-

MBM4

10"x10.5" Thermal Metallic Bubble Mailers 100pcs/cs

$91.44

$89.64

$87.83

$86.10

-

MBM5

11"x15" Thermal Metallic Bubble Mailers 50pcs/cs

$60.19

$58.98

$57.81

$56.70

-

MBM7

12.75"x10.5" Thermal Metallic Bubble Mailers 50pcs/cs

$50.93

$49.88

$48.90

$47.95

-

MBM6

12"x17" Thermal Metallic Bubble Mailers 50pcs/cs

$70.61

$69.19

$67.80

$66.47

-

MBM8

15"x17" Thermal Metallic Bubble Mailers 50pcs/cs

$79.38

$74.09

$74.09

$74.09

-

MBM9

18"x22" Thermal Metallic Bubble Mailers 50pcs/cs

$105.33

$103.02

$101.16

$99.10

-

MBM10

24"x20" Thermal Metallic Bubble Mailers 50pcs/cs

$140.07

$137.35

$134.52

$131.85

-