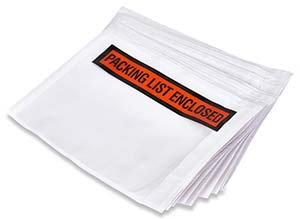 1000 pcs/cs Clear Packing List Enclosed Envelopes | Inventory Document Purchase Slip Pouch| Adhesive Pack for Shipping
These envelopes are made from high-quality materials.
Easy-to-Use with a self-adhesive backing, our Packing List.
Can easily attach your shipping documents to your package.
Made in the USA
Packing list envelopes are easy to use and come with a self-adhesive backing, so you never have to worry about them falling off or getting lost during shipping. They also come in a variety of sizes to accommodate all of your packing list needs.
Packing List Enclosed Envelopes durable and reliable, but they also add a professional touch to your shipments. With the "Packing List Enclosed" message clearly printed on the front, your customers will appreciate the attention to detail and care that you put into every order.
Packing List Envelopes *** Packing List Envelopes ***
SKU
Name
Price
Qty
Total
1
10
30

Packing List Envelopes

PLE755PL

7x5.5 Packing List Envelopes "Packing List Enclosed" 1000 pcs/cs

$49.00

$47.53

$46.55

-

PLE45PL

4.5x5.5 Packing List Envelopes "Packing List Enclosed" 1000 pcs/cs

$35.05

$34.00

$33.29

-

PLE456PL

4.5x6 Packing List Envelopes "Packing List Enclosed" 1000 pcs/cs

$36.00

$34.92

$34.25

-