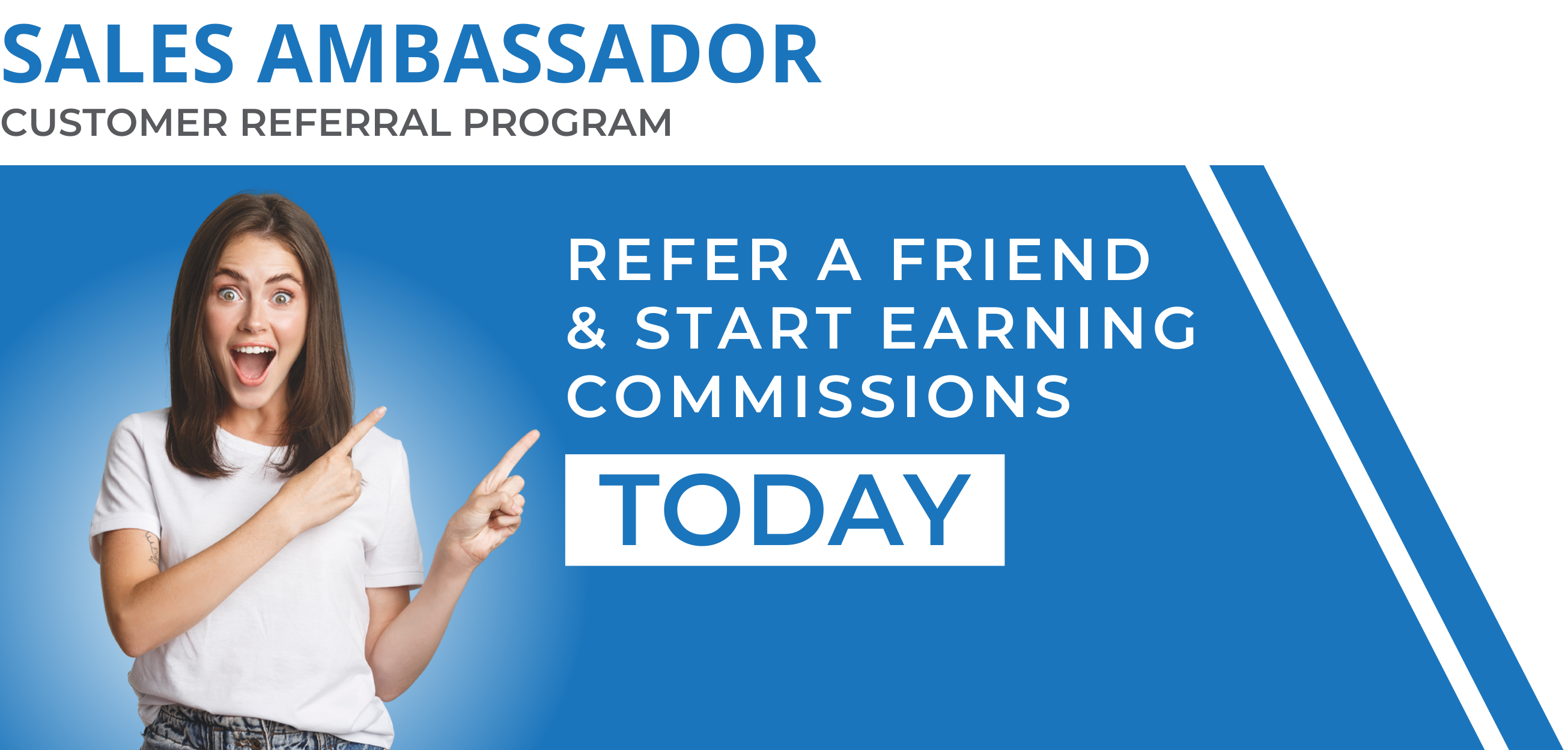 Hello there. Come right in!
We can't wait to share this exciting opportunity with you. You will see shortly how partnership with Zebra Pack can be an easy, fun and commercially beneficial experience.
Introducing Sales Ambassadors - a customer referral program designed to help you earn extra cash while growing your own business.
We invite you to watch this fun video below, which will explain how the program works.
If you're ready to sign up for the program, you can click below to get started immediately.
Otherwise, let's continue diving in further details of how the Sales Ambassadors customer referral program works. To do this, we have answered all questions that you might possibly have in mind at this point.
FAQ
Q: Who can become a Sales Ambassador?
A: Anyone who has an account with Zebra Pack can become one. If you're a new customer, you will need to create an account first. When creating the account you will have a quick questionnaire to complete, which looks like this: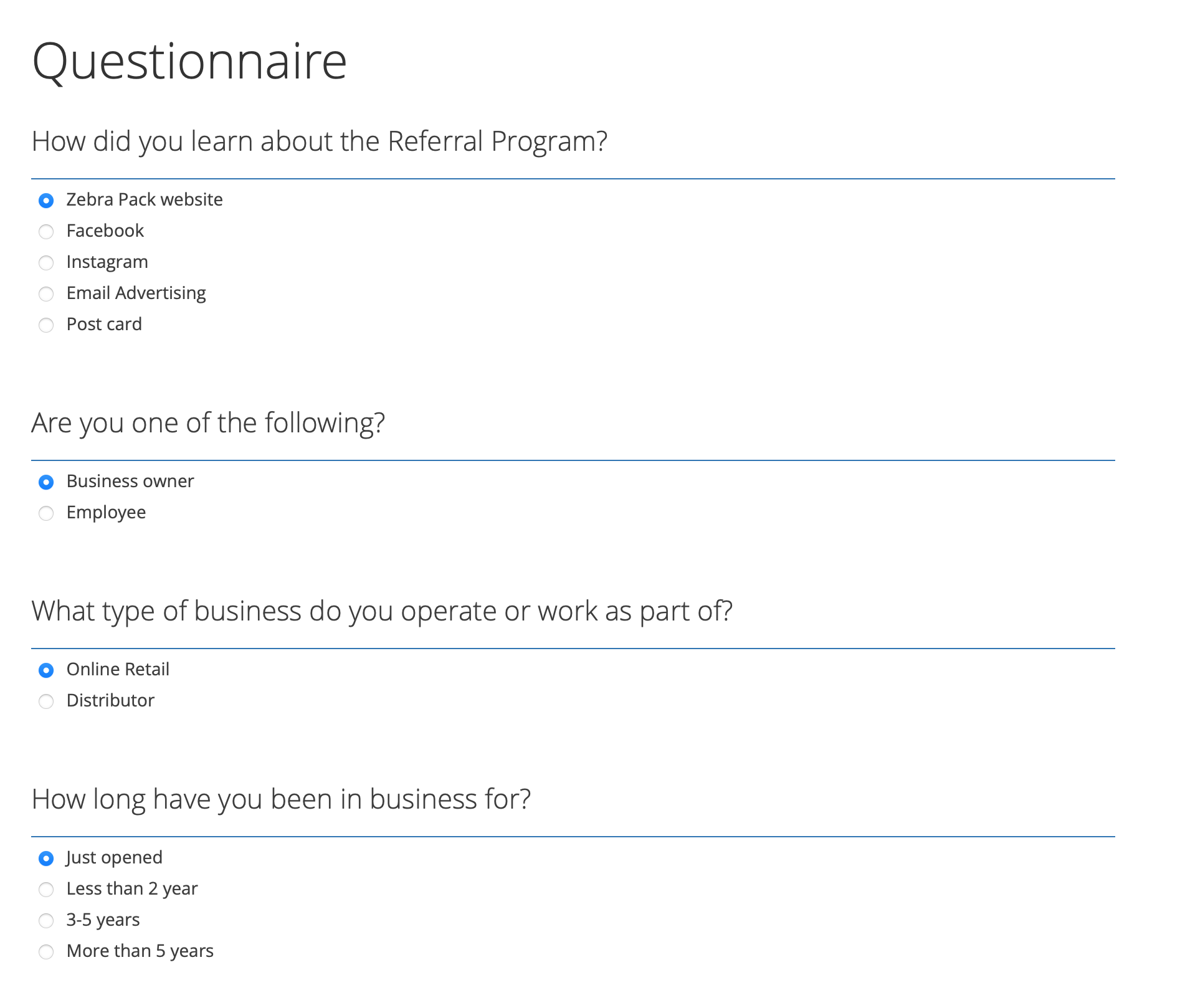 Once you completed and submitted the questionnaire, you will automatically be given the bronze status of the Ambassador.
If you're an existing customer then, it's an easy application process: you simply need to login in to your account and click on the pop-up window and answer a few questions related to the Ambassador Program and you're all set.
Q: How many people can the Ambassador invite to participate in the Program?
A: As many as they wish. There is no limit to how many people you can refer to the program. The more the better in terms of the potential commercial benefits you can have.
Q: What are the benefits of being a Zebra Pack Sales Ambassador?
A: You can earn 5% commissions from every purchase made by the referees you have brought to Zebra Pack. Let's say, you referred a friend or family member to start buying on www.zebrapack.com. The moment they accept your invitation and sign up for an account with us using a special referral link, 5% commission from their future sales will automatically be credited to your account.
Q: Is it a one time deal?
A: No. Unlike other referral programs, which use one time promo code,we offer a sustainable way of building up your own network of customers and earn commissions from their transactions for as long as one calendar year.
Q: How do commissions work?
A: Simple. You earn exactly 5% in dollar value from every transaction made by one of your referees. They will be credited to your account as points. One point equals one dollar. Uneven numbers will have respective values. For example, if your commission from one transaction is 3.45 points - then the value of your earning is equivalent to $3.45.
Q: Can I receive my commission in cash?
A: No. The only way you can redeem your commission is by using them to purchase goods and services and in some cases exchange for valuable gifts on our website. By doing so, you can optimize your spending and save up big.
Q: Who are the Referees?
A: Referees are individuals who Sales Ambassadors invite to Zebra Pack. They can be anyone who regularly purchases shipping and packaging supplies either for their own use or for reselling purposes. It can be small business owners who may need packaging supplies for everyday operations such as labels, tapes, bubble mailers, custom printed boxes, mailer boxes, etc. We sell a wide range of products and services that are essential to e-commerce business owners. As a manufacturer of most of the items sold on our website, we offer excellent pricing for business owners to buy directly from us.
Q: How can Ambassadors attract potential Referees to the Program?
A: To motivate the prospective, we will add to your invitations an attractive offer - 5% discount on all purchases during ONE MONTH after they sign up. As part of the deal, when the Ambassador sends invitations to potential Referees - they are automatically given a link with 5% discount that Referees can enjoy during one month period - only if they sign up for an account with Zebra Pack.
Q: Can a Referee also become an Ambassador?
A: Yes, once they are familiarized with Zebra Pack they are welcome to also sign up for the program and start earning commissions. Their one month discount is still going to be valid.
If you feel you are interested in signing up for the Program, please click here and start earning your commissions as soon as possible!
Also please check out the terms and conditions of the Zebra Pack Sales Ambassador Program below.
Program Terms & Conditions:
Only one account per IP address is allowed to create an account in order to enroll in the program as an Ambassador.
In order to receive full benefits of the Program one must have an active account or create a new one and complete very simple application process.
Commissions from the Referees transactions will accumulate uninterruptedly during one calendar year from the moment of enrollment in the Program.
Earned commission points may be redeemed at any point during one calendar year.
Only way to redeem the commission points is to use them for purchasing goods and services on www.zebrapack.com or exchange for valuable gifts.
Commission points will have a dollar equivalent value.
Zebra Pack reserves the right to cancel the status of the Ambassador in case it finds violations of the Terms and Conditions at any point of the program enrollment.
Commission points do not expire until the end of the enrollment period, which is one calendar year from the moment of being enrolled in the program.