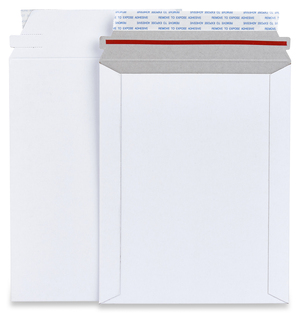 Rigid Mailers, Self Seal Document Mailers White Cardboard Envelopes - All industry Sizes are in Stock
Bubble Out Bags - All industry Sizes are in Stock
Made of high-quality cardboard materials, perfect for holding photos, papers, files, documents, and more.
All industry standard sizes, custom sizing is available
Package includes 100 packs of rigid mailers at affordable prices, more quantities than competitors
Peel strip design allows for easy opening without additional tools.
Fully sealed opaque envelope mailers and strong adhesive protect privacy and prevent replacement or damage during transit.
Made in USA

Our Rigid Mailers, also known as Stayflat Mailers or Self Seal Document Mailers White Cardboard Envelopes, are an ideal packaging solution for safely shipping flat items. Constructed from premium quality cardboard, they offer excellent durability and protection against bending, creasing, and folding, ensuring that your documents, photos, and other flat items arrive at their destination in pristine condition.

Our rigid mailers feature a convenient self-seal design, making it easy for clients to securely seal the envelope without needing additional tools. They are perfect for use in businesses and personal applications where high-quality flat item shipping protection is essential.
Rigid Mailers *** Rigid Mailers ***
SKU
Name
Price
Qty
Total
1
15
30

Rigid Mailers

STM79

7x9 Stay Flat Rigid Paperboard Mailers (100 pcs/cs)

$73.52

$71.31

$69.84

-

STM912

9.75x12.25 Stay Flat Rigid Paperboard Mailers (100 pcs/cs)

$93.26

$90.46

$88.59

-